Today is my 67th birthday and Nick's 23rd birthday.  He's the best present I ever got! He was born very late at night and as it got closer and closer to midnight, I got anxious for him to be born because I wanted him to be born on my birthday!
Nick and I chose our favorite meal and I'll make it for tonight.  It's my chicken in foil and is soooooooo yummy and super healthy.
Chicken in Foil
(Easiest meal ever)
This is a generic 'guide' instead of a 'follow this exactly' type recipe. You'll understand as we go along.
Aluminum foil sprayed with PAM for each boneless chicken breast.
1 boneless breast for each person
Cooked, brown or white rice (new potatoes can be sub'd)
Mushrooms, sliced
Veggies, drained
Mix the cooked rice with mushrooms and put this on the foil.
Next 'layer' would be any vegetable of your choosing. I might use up left-overs or put spinach in my 'pouch' and green beans for another family member.
Put chicken breast on top of veggies.
Top with shredded cheese and salsa for a Mexican flavor or Balsamic Vinegar (etc) for a more Mediterranean flair. Sweet and sour sauce will give it a Chinese flavor. You get the idea.
Fold foil in half, close, and then roll up ends to form a closed pouch. Bake at 350° for 45 mins. or til chicken is cooked.
Onions, sliced peppers, squash all work well, too. Hash browns will work in the place of rice. I've done this with pork and fish, too! This is my 23 year old son's favorite meal.  OPEN CAREFULLY! STEAM BURNS!
I'm keeping a food diary to work on losing weight.  I've been on thyroid medicine since the end of November and that wasn't helping.  I'm limiting my sweet tea and cut down on the sugar in tea and coffee. NO SNACKS except applesauce or raisins.  I've lost 2 lbs in 3 days.  It's a start!
My CT scan had shown a thyroid nodule and my TSH showed I was hypothroid (underactive).  My CEA was slightly above normal, which happens when there are any thyroid concerns.  Thyroid concerns also cause elevated cholesterol and mine had risen over the last 2 years.
My new primary sent me for an Ultrasound and the radiologist found 2 small nodules and one penny sized cyst all on one side.  I'm seeing a specialist on January 4th for him to evaluate. The cyst is in an area of my neck where I sense a lump when I eat, or lie down to sleep.  I also get hoarse quite often and feel like I'm choking on food at times.  My primary said the radiologist suggested I have ultrasounds every 3 to 6 months to watch for growth and recommended a number of doctors.  I called a friend who'd had thyroid concerns after cancer in her tonsil and she loved the group she saw for her thyroid. I chose to go to that group.  The doctor I will see has a long list of accomplishment.  Since the cyst causes the hoarseness and discomfort, that usually means surgery.  I'll let you know, tho I'm not concerned.
My scans which were to be done only once a year were done in November because of the slight elevation of my tumor marker (CEA) and they were all fine.  The radiologist said one 'benign' nodule MIGHT be a tiny bit bigger, but we went back 9 years and it was reported about 20 different ways including the exact reading he gave. Some doctors report both sides. Some only one side. Some round off. It's been there since my first CT scan in 2009 and we deemed benign several years ago.  I'm sure that's not the cause of the CEA reading.  From what I've read, it can take 4 to 9 months after the thyroid readings return to normal for the CEA to be a true reading.
Enough of that.  God is a good, good father and only wants what is best for His children.
I had to pick up my ultrasound at the hospital to take it with me on Thursday so Erin and I made it a fun shopping trip.
We went to Hobby Lobby and I got so many things!  Everything was 80 to 90% off.  Let's see if I can remember.  I got a deep red metal wall hanging with bells that says Joy.  I got 2 Christmas houses that are about 8″'s square and are night lights.
I got a heavy antique looking bell with a bird as the handle.  I got a green snow covered  Christmas tree with many pastel glass balls (around 6″ tall) that will match my bedroom decor.  I got a carved wooden owl about 10″ tall (for $3.25).  I got a very cute stuffed reindeer that is mostly legs and head.  His feet are heavy (sand?) and he is along the lines of Dr. Seuss style in colors, etc.
I got 2 glass candle holders. The prettiest one cost $1.25. I got a very unique fall wreath that was originally $79.99 for $8.00! Erin happened to spot the wreath on a non Christmas aisle and my fall wreath had started looking really bad up close.   Everything, including tax, was $45.01!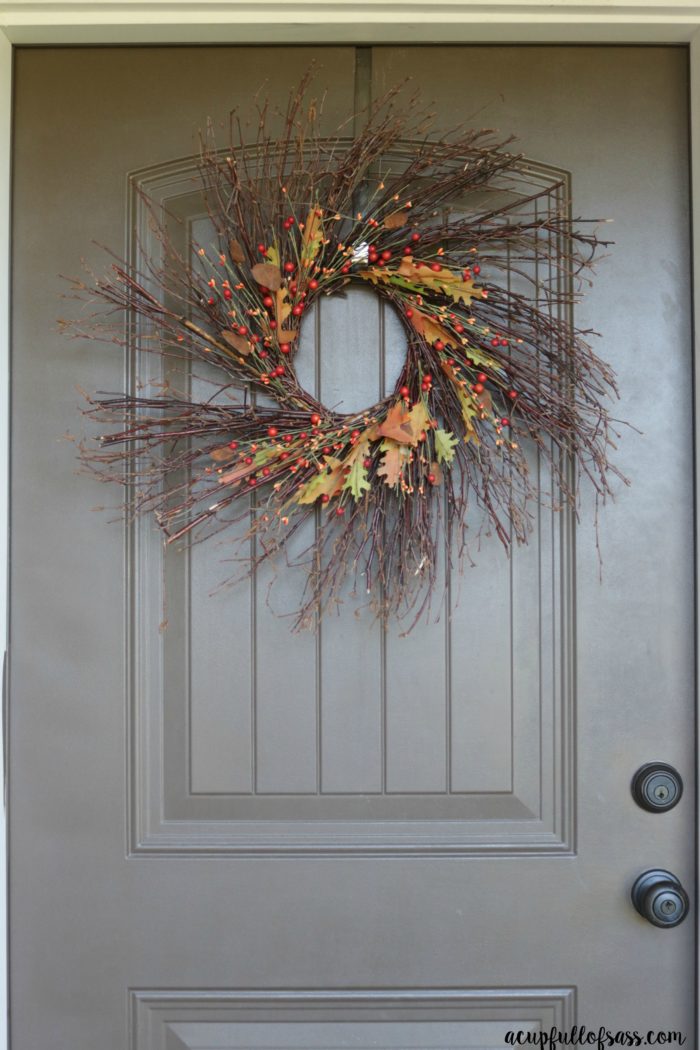 Jim had bought me two gorgeous tops from Kohl's and we got Nick clothes for his birthday (plus cash).  Erin had spotted a top she liked and while we were at Hobby Lobby, we went into Kohl's and they had 1 left at 50% off. We were only gone about 3 hours but it was fun and the traffic was getting bad.
I took a short nap and then got our birthday dinner in the oven.  It's starting to smell so good!  We still have ice cream cake left over from Christmas so anyone who wants cake has that.  Not me!  I'm really serious about losing this weight, tho I wish the thyroid medicine had helped.
It was 51° and sunny today so we didn't even wear our coats while out shopping and I got in a lot of walking.  Arctic air is moving in for at least the next week, so it'll be super cold.  I'd wanted snow for my birthday, but not happening!
I hope you had a lovely day. Thanks to everyone for our birthday wishes, beautiful bouquet of flowers, cards and phone calls!  It made my day!
Keep warm and come back soon for
Just a Little Talk